World Youth Day 2016 – Krakow, Poland.
More than 315 Chaldeans, the ethnic people of Mesopotamia Iraq and around the world are in Krakow, Poland.  They represent the Iraqi Christians worldwide.  They present our hope and solidarity of the peaceful people and pure humanity at her best.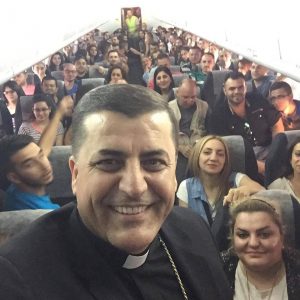 Led by Chaldean Bishop his excellency Basilio Yeldo, Chaldean Bishop Warda and many of the blessed Chaldean people clergy, priest, Nuns and Chaldean faithful.  The Chaldean youth are invited to recite the Lord's Prayer in-front of Holy Pope Francis and billions of Christians to watch it around the world.
'We are so happy and proud to be Chaldean and Christians,' said Chaldean Father Rayan Atto

"I want everyone to see a witness of faith, of suffering faith and the faith of our Chaldeans"
About 150 Chaldean youth who are visiting Krakow Poland, came from the displaced Iraqi  cities such as Baghdad, Mosul, Basrah and many Chaldean towns such as Tel Keppe, Baghdeda, Te Askof, Batnay, Keremlesh and other Chaldean towns in northern Iraq, yet all of them were able to pay their own way, thanks in part to donations made by Aid to the Church in Need and the Vatican's Department for the Laity.
Father Atto said that he and the other organizers have sought to foster a strong sense of unity among the youth, so that those who are displaced don't feel ashamed.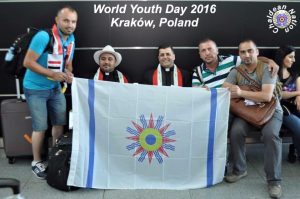 Here is the list of the activities for the Chaldean Youth and rest of the Chaldean people attending the World Youth Day in Krakow:
July 22, Chaldeans will celebrate a large Chaldean-rite Mass, followed by a brief catechism on themes related to the official World Youth Day program.
July 27, in which bishops from around the world will lead a reflection on WYD's theme, "Blessed Are the Merciful, for They Shall Obtain Mercy," in different languages including Chaldean
July 29, During the Via Crucis with Holy Pope Francis, Chaldean Iraqi youth will sing both the Our Father and Psalm 115 in Chaldean (Aka Neo Aramaic) in front of the Pope and the rest of the youth from around the world of more than 2 Billion people
"We know that everyone is waiting for us Chaldeans and watching us, and they want to know about us, our faith,"Father Rayan Atto