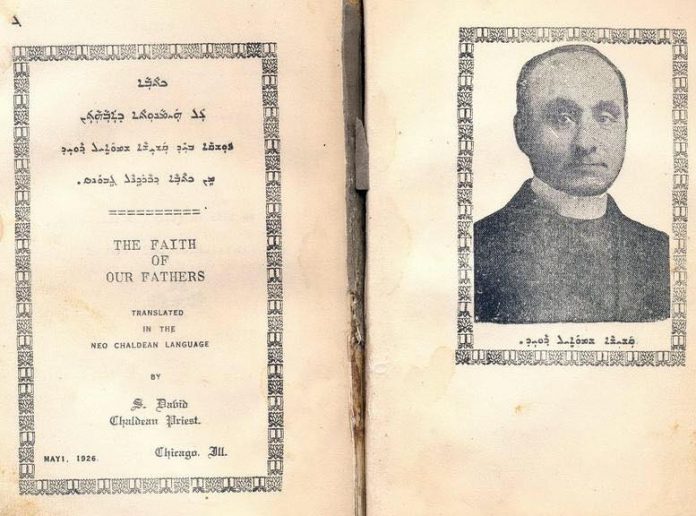 "The Faith of Our Fathers" translated to Chaldean Language

By Chaldean Pioneer, Priest Samuel David, Chicago 1926 (Served Chaldean people of from Urmia, Persia)
The publication is written in Chaldean and English languages. A dictionary of the Chaldean language and local dialect of the Chaldean people of Urmia, Persia.
Rev. David is one of the first Chaldean people and Chaldean priest in United States of America that arrived from Urmia, Persia (present Iran) to serve the Chaldean people in Chicago, Illinois in 1920's and 1930's.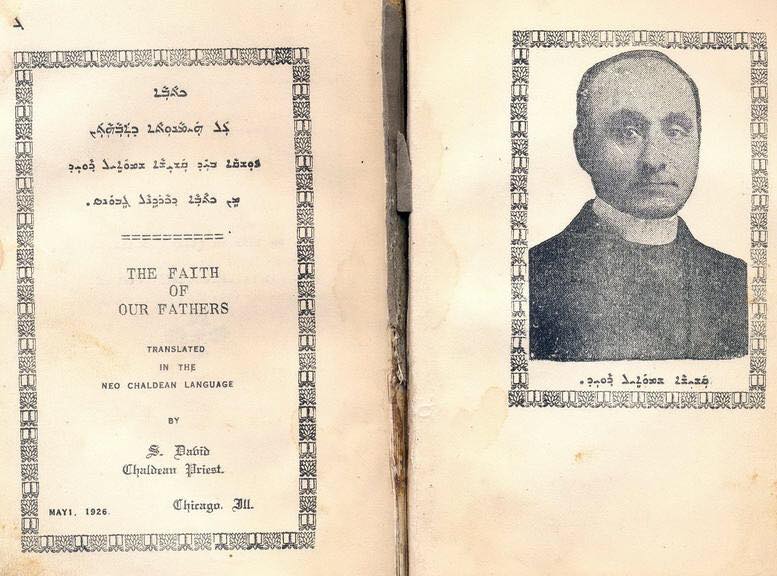 He is one of the first Chaldean pioneers from our Chaldean Church. Rev. David wrote many books including the First Chaldean to English Dictionary. It is currently available in the Chaldean library managed by the Chaldean Diocese of Detroit, Michigan, USA.
Chaldean priest Samuel David, established a Chaldean church mission in Chicago in 1920 and served a small community of Chaldeans that mostly migrated from Urmia, Persia and Northern Iraq and Southern Turkey. He respected and preserved the Chaldean language and was teaching it to preserve it further for the Chaldean people in Chicago.
Today, there are about 15,000 proud Chaldean people in Chicago, Illinois with two Chaldean church. Proud Chaldeans promoting our Chaldean people culture, history and Catholic Christian faith
Thank you to all Chaldeans of Chicago of preserving our native Chaldean people language and culture.