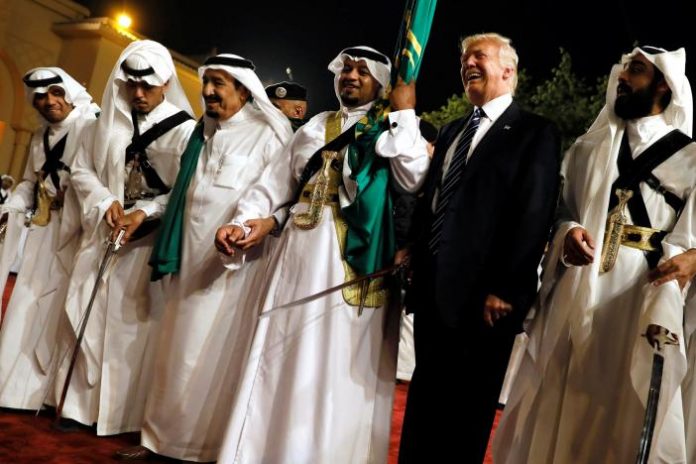 President Donald Trump's visit to Saudi Arabia is the epiphany of greater America. He's the first president who boldly introduced the Western values without submitting to Islamic State.  Visiting Saudi Arabia with his wife and daughter by his side without forcing them to veil. This is a prime example of a strong and powerful leader who does not bow to Islamic demands and does what he says. Trump and his family received a remarkably warm greeting from the King by shaking Melanian's hand which in Saudi customs is not permitted for men to greet women for they are consiered 2nd class citizen.  Melania and Ivanka were greeted by King's entourage with a warm welcome while their hair flowed freely with no coverings and were served by men.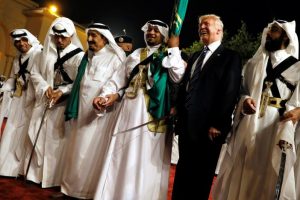 U.S. President Donald Trump dances with a sword as he arrives to a welcome ceremony by Saudi Arabia's King Salman bin Abdulaziz Al Saud at Al Murabba Palace in Riyadh, Saudi Arabia May 20, 2017.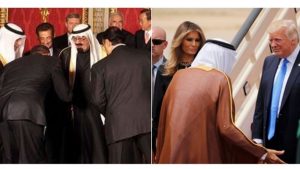 Trump does NOT bow like Obama, nor forces his wife and daughter to cover their hair.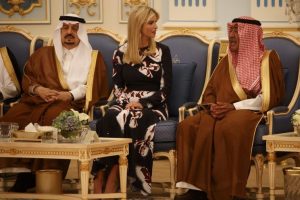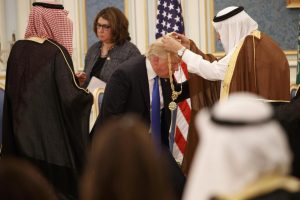 America should be respected by their customs and values just as Islam expect other nations to respect their values and customs. Respect among nations must be mutual not demanded by a sect of religion or culture.  Democrats portrait Donald Trump as a :
Homophobic, Sexist, demeaning towards women and disabled and Islamophobic.  Donald Trump was praised by Saudi's when he first touched down and received the highest civilian honour by King Salman. After all, that's what Islam's values are all about. Take Shiites and Sunni's for example, both Muslim nations but hate one another for they had been at war for thousands of years. Thanks to Democrats and snowflakes for making Donald Trump famous and well liked in the Middle East. What's not politically correct according to CNN or other news Media in United States, is politically correct in the Middle East and their media.   The more Democrats and snowflakes drill into Trump's life and past, the more respected and feared he will be in the Middle East, that's how they roll. The media was more concerned about Trump's issues with Comey than Hillary's deleted emails pertaining to National Security and  safety of Navy Seals abroad. Trump's trip to Sauidi Arabia will bring a new light to the world that American/Western Values ought to be respected.
Thanks to Democrats and Snowflakes for giving president Donald Trump more power with your outrageous media attention. He's respected and feared by the world including Russia.